Jiggle Jam is here!
Kidz Aerobix has released a new resource kit called "Jiggle Jam 1" for all Early Childhood Education Centres and Kindergartens and is ideal for SNU students too. It is simple for teachers to use and fun for boys and girls to participate in.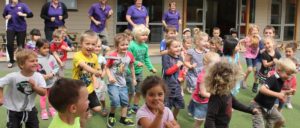 This resource teaches and introduces your students to, timing, rhythm, counting, cross crawling patterning, coordination, imagery, directionality, fine and gross motor skills, indigenous cultural movements, Maori language, moderate to vigorous cardiovascular fitness, a mat routine for posture and upper body exercises and our final routine offers slow and gentle movements for hand eye coordination, balance and calmness.
Jiggle Jam is a fusion of dance & fitness disciplines along with cultural interpretations that capture the look, attitude, posture and elements of Aerobics and Fitness.
Jiggle Jam has been designed specifically to motivate children to move and enjoy exercise. This resource is created by Brett Fairweather for 3 – 6 year olds and is in addition to the JUMP JAM program for Primary & Intermediate students.
NEW ZEALAND
Jiggle Jam Contact:
Linda Fairweather - linda@kidzaerobix.com
Phone:
+64 7 575 3575
Address:
PO Box 10368, Bayfair
Mt. Maunganui 3152, New Zealand