Liam Keightley at JUMP JAM Challenge Nationals 2013 Yr 4-6 Open Category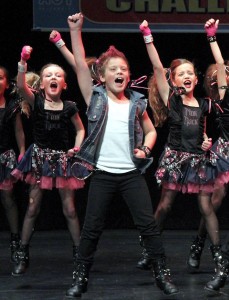 Hello classmates I am here with a speech about JUMP JAM and Brett Fairweather.
Why do I like JUMP JAM?   JUMP JAM is fun, it keeps you fit and healthy, you also get some free food – I mean what beats free food?!!  I know JUMP JAM – this is my self and the team from last year's JUMP JAM challenge that we came 1st in.
This is the creator Brett Fairweather, but just who is he? Brett has developed an exciting 'Kidz Aerobic' resource kit called JUMP JAM. It's designed to keep any age fit – even you oldies!!
Brett Fairweather was an Olympian and he started JUMP JAM in 2000.  These are some of his achievements.
·        1992 Brazil World Master Cup Aerobic Champion
·        1991 Suzuki World Cup Aerobic Champion
·        1990 Suzuki World Cup Aerobic Champion 1988 – 1992.
·        Brett is the first ever, double World Aerobic Champion and eight time New Zealand.
In a study in American schools, it showed that if you do JUMP JAM before your most difficult learning task you learned more information. The study also proved that if you do physical activities you can improve two times higher academic scores than those who do not do physical activities.
I found the downside of doing JUMP JAM competitions, is staying in at lunch, morning tea and coming to school early in the morning for practices twice, maybe three times a week, including weekends.  It's also really, really tiring.  Your parents have to agree to drive you anywhere around NZ depending on where the nationals and finals are held – they might have to buy a plane ticket or ferry ticket.
The good side of JUMP JAM competitions, is going round other schools and showing what you have learned, keeping your brain activity up and keeps, you incredibly fit.  Getting to be on stage and performing in front of all the kids and teachers was awesome. 
Let me tell you about how I got into this JUMP JAM stuff!   It went like this …. I went into the hall to see what was going on with the loud music playing.  When I sat down to see what was going on, Kim our JUMP JAM teacher and the boys said "come on over and have a trial", so I did and ended up in the Junior Team.   This year I am in the boy's team and we hope to win too!
Last year the junior team came 1st at both the regional and national finals.   It was awesome having to go to Auckland and perform in front of such a big audience.  Having to dress up in a costume was not really me, but when I was onstage in front of all those people it did not even occur to me that I was in costume, I just did it!
I hope that I have given you enough information about Brett Fairweather and his JUMP JAM program, which is now in many schools around New Zealand.  Maybe you might even go and give it a go!  Would you want to be like Brett Fairweather, an Olympian athlete, I would.
Now that you have heard my speech, I hope I have inspired you to get off the computer and have a go at JUMP JAM.
Thanks for listening – Liam Keightley
St Mary's Catholic School, Tauranga